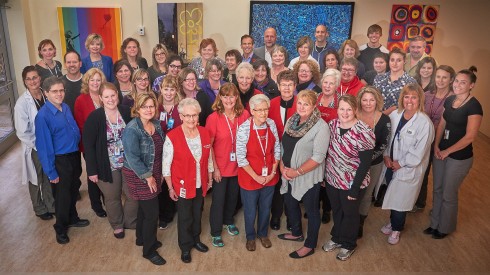 We are looking for a few great people committed to building a healthy future.
Our staff and volunteers demonstrate a deep commitment to patients and a high level of personal caring. We provide a work environment that supports these values by offering:
ongoing training, both internally and externally
opportunities for professional growth and development
a dynamic, progressive environment
the opportunity to be involved in numerous aspects of patient care
the chance to work as part of a team with a deep commitment to patients
the best of both worlds in Kemptville: small-town living in close proximity to our Nation's Capital
Kemptville District Hospital is currently ranked as one of the top hospitals in Ontario for employee satisfaction.
We are looking for skilled, talented and dedicated individuals to join our team. Our current opportunities are below.
What our employees are saying
Watch the video we made to celebrate the launch of our orthopaedic surgery program. The video demonstrates how the people at Kemptville Hospital embraced the opportunity to be a different kind of small hospital, and how it felt to be engaged in meeting a system-wide challenge.
Volunteer Opportunities
The KDH Auxiliary provides volunteers for every area of the hospital. At the moment the Auxiliary is particularly seeking volunteers for the emergency department and gift shop, as well as student volunteers for early evenings. To apply, send an email to our volunteer coordinator. Click here for more on volunteering with the KDH Auxiliary. 

Career Opportunities
Here is a list of our current employment openings. Click on any job title for details.