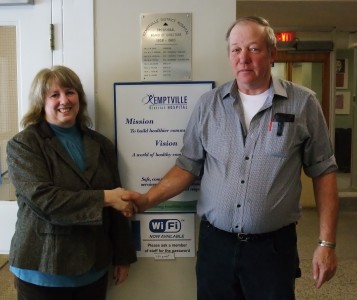 Roebuck Community Centre was definitely the place to be Saturday, February 15th! George Elliott of Augusta Township solicited some friends and organized a fundraising dance in support of the equipment fund at Kemptville District Hospital. The team helping George and his wife Cathy were Cliff and Pat Young, John and Charol Baker, John and Carole Ross, Lee and Val Armstrong and Lumpy Burnett.
Music was the highlight of the evening, with the band starting at 8:30 and the dance floor was busy all night. The Texas Tuxedos from Napanee entertained, playing excellent country music, new and old, even mixing in some classic rock.
George noted "Everywhere I went to ask for support, it was given.  I heard great stories and high praise about Kemptville District Hospital."
Ken McNeely donated his auction services for a great assortment of items ranging from ice cream to top soil.  Pat Young donated an apple pie purchased by her husband for eighty dollars, which by the way works out to ten dollars per slice.
$6,815 was raised in support of the equipment fund at Kemptville District Hospital.
Mary Boucher, Director of Development for the KDH Foundation said that "this type of community action and generous community members like this are essential to the Foundation and we are very grateful to George and his team for this fundraising effort on our behalf."
---
Thank you very much to the following generous donors!
Lee and Val Armstrong
John and Charol  Baker
Jeff and Jane Baker
Laurie Barcier
Beach Home
Dorothy Belland
Lumpy Burnett
Chevron Construction Services Ltd.
Covill Auto Wreckers
Creekside Diner
Dixie and Egan
Al Dobson
Drummond's Gas
George and Cathy Elliott
Elmers Construction
Escape Salon and Spa
Feenstra's Equipment Ltd
Rike and Carl Fenlong
Laura and Ed Finucan
Karrie Fournier
G. Tackaberry Construction
Earl and Jane Gallant
Sargent and Jane Gallant
Grahames Bakery
Paul Greer
Chris and Dawn Griffith
Heavenly Hands
Nelly Hobbs
Investors Group
Daryl and Steven Kennedy
Glenn and Shirley Kirkland
Lafarge
Maitland Firefighters Association
Dean McAllister
McLinton Landscaping
Catherine McMullen
Ken McNeely
Matthew Meikle
Ken Miller
Marlene and John Neddo
North Augusta Sports Club
Nuisance Wildlife Control Inc
Old Porch Primitive
OttawaValley Roofing
Celine Beaudette and Norm Palmer
Steve Polite
Pryers
George and Peggy Purchase
Bob and Darlene Jones – R & D Dairies
Riopelle's Video & Convenience
Daryl Ritchie
Riverside Autobody Ltd.
John and Carol Ross
RVB Machine Products
T Scharfe
Selleck Mechanical
Morrie and Dorothy Stark
Tanda Shoes
The Findlays
Irene VanderVelde
W.O. Stinson and Son Ltd.
Woody's Place
Cliff and Pat Young