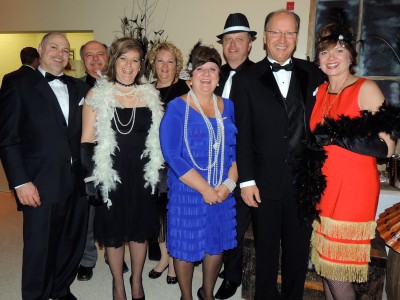 MARCH 30, 2015 – A throng of flappers and their dapper escorts packed the North Grenville Municipal Centre on March 27 for the Kemptville District Hospital Foundation's annual Spring Gala.
Led by Lillian Leonard, the Gala committee had planned an entertaining 'Roaring 20s'-themed evening, including dinner and dancing, live and silent auctions, whiskey tasting and a demonstration of Latin and ballroom dance.
Feather boas, tuxedoes and dark gangster-style suits were in abundance as partygoers visited the champagne tower, the card raffle, photo booth and the silent auction before sitting down to an elegant dinner.
During dessert, TLC Dance Studio presented a 1920s dance demonstration, and after dinner the Mick Armitage Band kept their promise of keeping the crowd on the dance floor all night.
In addition to being a 'roaring' good time, the evening was also a celebration of the community's generosity, as the Foundation presented a cheque for $350,000 to the Hospital, represented by Board Chair, Lis Angus, and Vice Chair, Karen Cooper.
"This is the Foundation's annual contribution to the Hospital, and it represents a large number of gifts from local businesses and individuals," said Hugh O'Neill, Chair of the KDH Foundation Board of Directors. "And every one of them is strongly committed to supporting their hospital."
"KDH is so fortunate to enjoy the continuing robust support of the communities it serves," O'Neill continued. "I am very proud of the generosity of our community and sincerely appreciate the financial and volunteer support that makes a difference at KDH every day."
All agreed the 2015 Gala was a huge success, raising over $35,000 for the ongoing equipment needs of the hospital, with almost $15,000 raised at the live auction, called by expert auctioneer Chris Cathcart.
The KDH Foundation would like to express its gratitude to the evening's emcee, Kin Choi, as well as to the Gala's sponsors and the donors of both live and silent auction items.
Sponsors
Gold   Scotiabank | O'Farrell Financial
Silver   ZW Group
Bronze   Bryden Martel Architects | City Wyde Electric | Dial A Chef | DR Howell Electric | Kemptville Medical Centre | Patterson Hadden & Brown Insurance | Pelee Island Winery | Warren & Jansen Law Office – Paul Jansen
Donors of Live Auction Items
Anderson Family – Mont Tremblant Condo Weekend
Cyndy Batchelor & Katie Heggie – General Admission Shania Twain Tickets
Mark Bonneau/Ottawa Senators – Lower Level Suite Sens Game
Canadian Tire – Yardworks Lawnmower
eQuinelle – 4 18-hole Golf Passes
Paul Forgues – Signed Bourke Boston Jersey
Greg Lane/Cisco – 2 Bluesfest VIP Passes
Ross & Joanne Lincoln – Mont Tremblant Chalet Weekend
Chris Napior – Signed Condra Jersey
Eric Norenberg – Kemptville Interiors Shopping Spree
Dermid & Donna Lee O'Farrell – Carlson Signed 'C Jersey
Harry Pratt – Custom KDH Stuffed Rabbit
Rideau Auctions – Nikon Camera
TD Bank – 2 Shania Twain VIP Tickets
In the photo above (left to right): Don Green, Denys Bourguignon, Sandra McNamara, Lynne Bourgiugnon, Tracey Bennett, Joe Bennett, Jim McManaman, Cathy McManaman
For more, see www.kdhgala.ca.