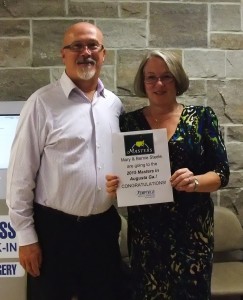 Bernie and Mary Steele – Winners of The 2015 Master's Raffle
When Mary Steele received a phone call telling her that she and her husband had won a trip for two to The 2015 Masters in Augusta, Georgia, she could not wait to tell Bernie, her husband.  This exciting experience has been on Bernie's bucket list for a long time.
The Steeles, who moved to eQuinelle in Kemptville in 2013, strongly believe in supporting local business and charity.  They were among the first to purchase tickets for the raffle.  Bernie's history with Kemptville District Hospital began in 2012 when he had his foot operated on at KDH, a year prior to deciding to make Kemptville their home.
The prize includes two tickets to the Wednesday practice round and Thursday competitive round at the 2015 Masters, round-trip airfare, accommodations, and hospitality at the Azalea House.
The winning ticket was drawn at the sixth annual KDH Corporate Golf Classic, held this year on September 10 at eQuinelle Golf Club in Kemptville. It was a sunny and warm day as 100 golfers took to the course in support of the Total Joint Replacement Program at Kemptville District Hospital.
"We would like to thank our generous sponsors who helped to make this year's KDH Golf Classic a success," said Mary Boucher, the event organizer.  "Our Gold Sponsor was O'Farrell Financial, and Bronze Sponsors were Myers Kemptville, Nelly Van Berlo from Dominion Lending Centre and IDS Systems."
The winning team for the day was the Walmar Ventilation Products Team and included Wayne Medaglia, Bill VanRyswyk, Yvon Laflamme and Lise Parent.
Golfers had the opportunity to bid on silent auction items and exciting live auction packages. In total, the Golf Classic raised over $25,000 to support new equipment purchases for the TJR Program here at Kemptville District Hospital.
Robert Noseworthy, Westerra Homes, Vice-Chair of the KDH Foundation was the emcee for the event and noted that many of the golfers participate year after year and their loyal support for the Hospital is truly appreciated. "KDH is here for our community and we are thankful for it," said Noseworthy.
For information regarding this event or how you can support the Hospital, please contact Mary Boucher, Director of Development, at the KDH Foundation office at 613-258-6133 x 157 or mboucher@kdh.on.ca.