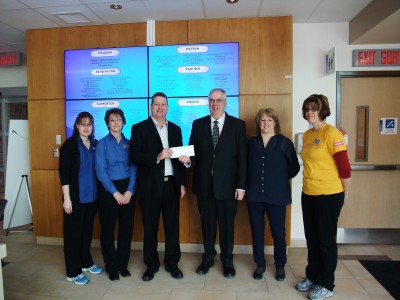 Pictured in front of the Donor Board (left to right): Tree of Life captain Jennifer Stenhouse, Store Manager Wendy Boal, and Store Associate Gary Baxter present a cheque for the funds raised during the Tree of Life campaign to Hugh O'Neill, Chair of the KDH Foundation, and Mary Boucher, Director of Development for the Foundation.  On the far right is Shoppers Kemptville Top Leaf Seller, Doris Ellis.
The Shoppers Drug Mart Tree of Life campaign is a four-week program held across Canada each fall. In support of leading women's health organizations, customers, staff and Associate-Owners at over 1,240 Shoppers Drug Mart locations raise funds through the purchase of the Tree of Life paper icons. Since 2002, the Tree of Life campaign has raised more that $20.8 million for Canadian health charities. In 2013, over 480 women's health charities across Canada will benefit from the campaign's proceeds with 100 percent of funds staying in the community where they are raised.
With the combined efforts of Shoppers Drug Mart, its employees and customers, Kemptville will now have improved access to services supporting women's whole health in body, mind and spirit. The Shoppers Drug Mart 2013 Tree of Life fundraising campaign has harvested more than $6019.00 for the KDH Mammography Unit.
"The success of the 2013 Tree of Life campaign can be attributed to the support and commitment of our loyal customers and staff," said Gary Baxter. "Shoppers Drug Mart has partnered with women's health organizations at national, regional and local levels, in order to provide direct support, ensuring that essential funding, resources and education are available to meet the needs of Canadian women. We are pleased to present this year's Tree of Life campaign proceeds to the KDH Mammography Unit."
Hugh O'Neill noted his appreciation of this amazing response from community members and added that all at KDH are grateful for the support of Shoppers Kemptville in their initiative to contribute to women's health with this annual program.