Tourney for Tatas
Event Date: May 10, 2014
This year Tourney for Tatas will be held on Saturday, May 10. This annual hockey tournament is held by Kemptville Ladies Hockey and has raised over $16, 700! This tournament benefits the Mammography Campaign at KDH. Mammography breast cancer screening at KDH is reaching out to more and more women, helping detect cancer earlier and leading to life-saving prevention.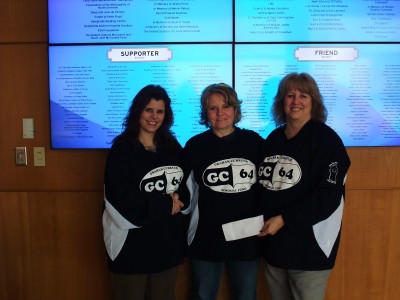 Above: Sandy (middle) from Kemptville Ladies Hockey presents a cheque from the 2013 Tourney for Tatas to Catherine Van Vliet and Mary Boucher.
Shoppers Pink Party
Event Date: May 03, 2014
On Saturday, May 3, Shoppers Drug Mart in Kemptville at 2727 County Road 43 is hosting a Pink Party Gala! Kemptville District Hospital and the KDH Foundation will be on site from 2-5pm to book mammograms and to register walkers for Kemptville Walks 2014. This will be an ideal opportunity to learn more about Kemptville Walks and to gain some inspiration, so we hope to see you there!
For more information on Kemptville Walks, click here.
Sweetheart Brunch
Event Date: February 09, 2014
Don't miss the Knights of Columbus' 16th Annual North Grenville Community Sweetheart Brunch at the North Grenville Municipal Centre. All-You-Can-Eat-Brunch will be served continuously from 8:00 am to 1:00 pm. In addition there will be a draw for cash prizes. All proceeds from the event will be used to sponsor local charities and community initiatives.
Tickets are $10 for adults, $5 for children 6 to 11, and free for children under 6. Tickets are available at the door or from the following Kemptville businesses: Royal LePage Gale Real Estate, Solution One Tax Services, O'Farrell Financial Services and Brewed Awakenings.
Please click here for more information.