As Parkinson's Awareness Month is recognized across Canada, Kemptville District Hospital (KDH) is spreading the word about its unique program for people with the neurodegenerative illness.
For a number of years, KDH has been offering a weekly Parkinson's Exercise and Movement Group that focuses on strengthening and balance exercises – last year KDH moved the program out of the Hospital and into a dance studio! The move was made possible by an innovative collaboration with The Workshop Dance Studio in Kemptville.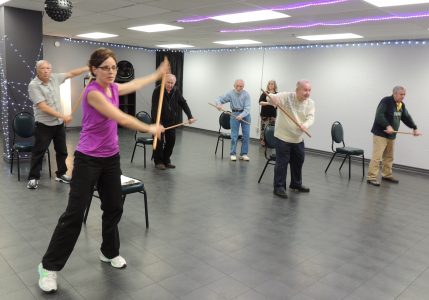 Parkinson's affects the body's movement; its most common symptoms are tremor, slowness and stiffness, impaired balance and rigidity of the muscles. Although the diagnosis of Parkinson's may be life-changing, its symptoms can be successfully managed with medication, counselling and exercise.
Operating the KDH Parkinson's exercise group at The Workshop Dance Studio means increased access to this important program: physiotherapist Tanya Collins reports that KDH has been able to eliminate its previous waiting list. And with The Workshop Dance Studio's owner, Nancy Morgan, acting as an additional instructor, a broader scope of expertise can be offered to the participants as they perform the exercises and movements.
As well, with more room to move freely, the therapeutic benefits for specific Parkinson's impairments are optimized, while the temperature-regulated space provides increased comfort for participants.
KDH's Parkinson's program is offered in partnership with Parkinson Society Ottawa. The Exercise and Movement Group meets every Wednesday at 1:00 pm at The Workshop Dance Studio in Kemptville. To join, call 613.258.6133, extension 136 to make an appointment for an initial assessment. A doctor's referral is not required.
If you have been recently diagnosed with Parkinson's disease, you are not alone. Parkinson Canada has information and tools you need to lead a healthier, more independent life.  Learn more at http://www.parkinson.ca
For further information contact:
Jenny Read, Communications Officer
T: 613-258-6133 extension 223
Email: jread@kdh.on.ca