Kemptville District Hospital (KDH) and Winchester District Memorial Hospital (WDMH) are pleased to announce that they have entered into a new partnership for collaborative research and quality improvement.
The two hospitals have signed a Memorandum of Understanding (MOU) to ensure seamless cooperation on quality improvement and rural research. Work has already started on their first joint research project.
According to Dr. Mohamed Gazarin, WDMH's Chief Research Officer, the partnership is a "win-win-win" situation. For KDH, it means access to WDMH's proven quality improvement and patient safety resources and materials, so the smaller hospital doesn't have to "reinvent the wheel" when developing quality improvement initiatives. For WDMH, the agreement provides a new partner in its research proposals. "The third winner," explained Gazarin, "is the Canadian rural health care system, which achieves both cost savings because of better utilization of resources, and a more robust rural research outcome."
Cathy Burke, Vice President of Nursing/Clinical Services and Chief Nursing Executive at KDH, agreed. "We are excited about this new partnership as it will enable us to take quality improvement projects already successfully implemented at WDMH and replicate them here at KDH," she said. "These initiatives will be of direct benefit to our patients."
Since the neighbouring Eastern Ontario hospitals signed the MOU, they have already submitted two joint rural research proposals to The Canadian Institutes of Health Research (CIHR), Canada's federal funding agency for health research. If funded, both research projects have the potential to improve the health and quality of life of residents in the communities served by KDH and WDMH.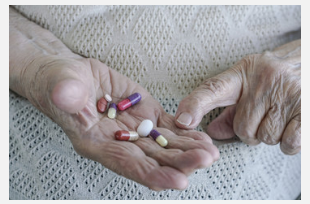 The first proposal focuses on de-prescribing of medication for people over 65. De-prescribing is the process of intentionally stopping a medication, reducing its dose, or replacing it with a safer medication. In doing so, the goal is to reduce falls, adverse drug events, and hospital admissions, and improve quality of life for patients. De-prescribing is an important initiative because as many as 66% of Canadian seniors take five or more medications, and 39% of people 85 and up take 10 or more*. The joint WDMH/KDH project will entail implementing an inpatient de-prescribing program developed by WDMH to support residents of the western region of the Champlain Local Health Integration Network (LHIN).
The second research proposal is about enhancing "transitions in care" for patients moving from hospital out to the community in rural areas, streamlining the process for improved patient care and follow-up. This study will look at the current transitions in care activities of three rural hospitals; the research will include interviews to gain the different perspectives of patients, caregivers, in-hospital nurses, discharge planners, doctors, pharmacists, and clinical managers, as well as community physicians and pharmacists, and partner organizations such as home care.
"As hospitals with different areas of specialization, it's so beneficial for all concerned – but particularly the people that we serve – when we share resources and transfer knowledge from one organization to another," noted Cholly Boland, WDMH's CEO.
"The partnership with WDMH is "very much in keeping with our strategic direction to build and facilitate partnerships among health service organizations in our region to help make coordinated care a reality for our patients and families," added Frank J. Vassallo, KDH's CEO.
Gazarin stated that he and Burke hoped to have more good news to share about quality improvement initiatives and joint research projects in the near future.
*Source: Canadian Deprescribing Network Annual Report 2016
About Winchester District Memorial Hospital
Winchester District Memorial Hospital (WDMH) is a rural teaching hospital located in Winchester, Ontario. WDMH has a 24/7 emergency, childbirth centre and diagnostic imaging facilities including digital mammography and CT scans. It offers inpatient medical and surgical services, as well as day surgery and outpatient specialty clinics. WDMH is a hub site for cancer care, dialysis and cataract surgery. WDMH leads the Centre of Excellence for Rural Health and Education – a collaborative that brings together the hospital, local physicians, long-term care, and health and community services.
For further information contact:
Jane Adams, Communications Lead
T: 613.729.4864
About Kemptville District Hospital
Kemptville District Hospital is Accredited with Exemplary Standing, the highest ranking bestowed by Accreditation Canada. Committed to building healthier communities, we are a model of hospital-led integrated health services within the provincial health system. Kemptville District Hospital consistently ranks among the top hospitals in Ontario for both patient and employee satisfaction. We pride ourselves on being a good partner within the system. Kemptville District Hospital provides primary care management services, acute care hospital services, and advanced orthopaedic care.
For further information contact:
Jenny Read, Communications Officer
T: 613.258.6133 ext. 223