KDH's Chief Executive Officer, Frank J. Vassallo, was a key presenter at the 'Patient and Family Centred Care' session at Health Achieve, the Ontario Hospital Association's annual national healthcare conference held the second week of November, 2016, in Toronto.
Vassallo was one of three hospital CEOs sharing their strategies and lessons learned in effecting culture change within their organizations to achieve Patient and Family Centred Care, a healthcare methodology that sees healthcare teams partnering with patients, both in the care they receive and at the organization's decision-making tables.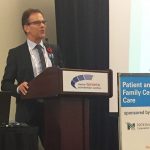 Vassallo joined Julia Hanigsberg, President and Chief Executive Officer of Holland Bloorview Kids Rehabilitation Hospital, and Janice M. Skot, President and Chief Executive Officer of Royal Victoria Regional Health Centre, on the panel, which was presided over by Cathy Fooks, President and Chief Executive Officer of The Change Foundation.
The three CEOs shared their individual approaches for driving culture change, and discussed key questions about sustaining a Patient and Family Centred culture.
Included in Vassallo's presentation was a review of KDH's unique 'The Patient Experience Starts Here' campaign, designed to help the hospital's staff, physicians and volunteers internalize the fact that each makes a significant contribution to the patient experience.
Vassallo's presentation was well received by the audience of healthcare providers, administrators and patient and family partners. Many expressed interest in learning more about the campaign, including the printed materials developed to enhance it.