Kemptville District Hospital has been selected as one of five recipients of the Booth Centennial Green Award for its commitment to going green and using reusable textiles in the Operating Room
November 8, 2012 – Kemptville District Hospital (KDH) was chosen to receive the esteemed Booth Centennial Healthcare Linen Services Green Award for its overall use of reusable Operating Room (OR) products and willingness to participate in innovative green OR solutions.
The first of its kind in Canada, the Booth Centennial Green Award is presented to hospitals that have demonstrated a serious commitment to going green and using reusable textiles in the Operating Room – as opposed to costly and environmentally-unfriendly disposables.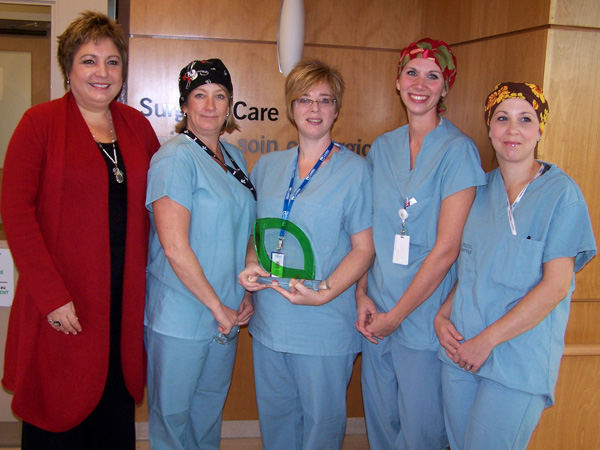 Surgical team with Booth award) Caption: KDH Surgical Care Unit staff holding the Booth Centennial Green Award. Left to right: Cathy Watson, Debbie Thurler, Julie Summers, Lindsay Essar, Joanne Rheaume
According to Mario Muffo, Booth Centennial's Manager of Strategic Partnerships, "Kemptville Hospital has this year's best overall surgical linen usage for a new customer, as it touches upon all different lines of products that we have available. KDH is a great role model for going green!"
The other Ontario hospitals presented with the award this year were Sunnybrook Health Sciences Centre, The Scarborough Hospital, Markham Stouffville Hospital, and Toronto Western Hospital.
The award was presented to the Surgical Care Unit staff at KDH by senior representatives of Booth Centennial on Tuesday October 30, and winners' names were displayed at the Ontario Hospital Association HealthAchieve Conference held in Toronto November 5 to 7.
One of North America's largest and most innovative healthcare solutions companies, Booth Centennial of Mississauga, Ontario has been providing sterilized, re-usable, OR linens to KDH since March, 2012 in collaboration with Smiths Falls' Hart Laundry Service. Operating in the former Rideau Regional Centre, Hart Laundry partnered with Booth Centennial to provide a complete linen service – both general and sterile operating room linen services.
Before signing with Hart/Booth, KDH received general linen in bulk from another provider, and KDH laundry staff had to count out various items of linen and compile them onto carts for delivery to different areas of the hospital. Surgical drapes designated for OR use required packaging and sterilization by the hospital's Medical Device Reprocessing Department. Now, Hart Laundry prepares the carts with the desired quotas for the various areas of the hospital, and they are delivered ready for use, with the OR drapes and packs sterilized and in locked carts so that the integrity of the sterile items cannot be compromised.
Cathy Watson, Manager of Clinical Programs at KDH, is delighted that the hospital has been recognized with this award. "Not only are we pleased with the successful partnership and excellent quality of linen," she said, "but we are also proud that our efforts to green our operating rooms reduce the environmental impact without compromising patient care."
Hart Laundry is operated in Smiths Falls' Gallipeau Centre – formerly the Rideau Regional Centre – by Larry Hart, who was the manager of laundry services at the Rideau Regional Centre for more than 20 years. The property was purchased in 2011 by J.A. Gallipeau Construction and Development, who reopened the laundry operation and hired Larry Hart to run it. Hart has 40 years of experience in the laundry business.
Larry Hart was also very pleased with Booth Centennial's selection of KDH to receive the coveted Green Award. "Congratulations to the team at KDH for leading the way with the green movement," he said. "This is what our partnership with Booth Centennial is all about, and we are thrilled to be working with both KDH and Booth."
About Kemptville District Hospital
Kemptville District Hospital is a fully accredited healthcare facility committed to building healthier communities. We are distinct within the provincial health system as a model of hospital-led integrated health services. We operate on two sites and provide primary care management services, acute care hospital services, advanced orthopaedic care and pride ourselves on being a good partner within the system. Kemptville Hospital consistently ranks among the top hospitals in Ontario for both patient and employee satisfaction.
For further information contact:
Jenny Read, Communications Lead
Tel: 613-258-6133 ext. 223
Email: jread@kdh.on.ca