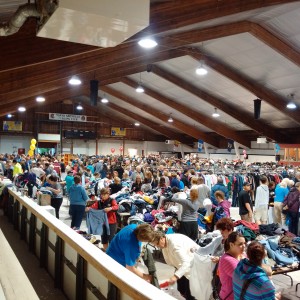 The heavy rain on Friday, June 12 could not stop the crowds from lining up outside the North Grenville Curling Club, anxious to have first crack at the large selection of treasures, furniture, clothing, and more. Thanks to this kind of support, the 55th annual yard sale organized by the Kemptville District Hospital Auxiliary  once again raised significant funds, which will be used to purchase medical equipment for the hospital.
Shoppers came from around the region to snap up bargains in clothing, books, linens, china, jewelry, craft supplies, electrical appliances, furniture and sporting goods. Children and parents swarmed the toy section.
At 1:00 pm on the second day of the sale, Saturday, June 13, winners of all the draws and raffles were announced. There were fifteen lucky winners; the big winner was Lorraine Ferguson, who won $2,700 in the 50-50 draw. Click here for the complete list of winners.
Dozens of much-needed volunteers participated in the set-up and operation of HeyDay, together contributing a remarkable 2,400 plus hours to the event.
In addition to a huge thank you to the volunteers, donors and shoppers, the KDH Auxiliary would like to express its gratitude to the many businesses and groups that contributed to Hey Day's success this year. Several deserve special mention, as follows.
Canteen supplies were donated by Albert's Meat Shop, Beking Poultry Farm, Giant Tiger, Laughlin's General Store (Hallville) and Lanthier Bakery. B&H Your Community Grocer contributed food items for the canteen and Betsy Boxes, as well as lending grocery carts, which were of great help in transporting goods during the sorting and set-up process.
The North Grenville Curling Club rented their facilities to the Auxiliary for the event.
Harry Pratt donated his time on Friday night, keeping everyone aware of all the bargains and raffles.
Diana Fisher from Juice FM did a fantastic job announcing on Saturday.
Bob Besharah from Class Acts supplied the much-needed sound system.
Kemptville Horticultural Society organized and ran the plant section.
Tallman Truck Centre generously contributed trucks and drivers as needed.
Total Move Management were of great assistance with the drop off and transport of unsold items.
Dumpsters were provided by "Fast Eddie" Auto Recycling & Container Service, a much appreciated service.
Many local businesses allowed us to put up our posters and flyers.
At the end of the event, the Diabetes Association received all unsold clothing, small appliances and household items.  The books went to organizers of the August Book Fair, which will jointly benefit North Grenville Community Living and the Kemptville Youth Centre. Selected unsold furniture was donated to Lazarus House.
Jolene Stover, this year's HeyDay co-ordinator, said, "I am proud to be a part of such an amazing, generous community – one that appreciates our hospital and supports these fundraising events, year after year."