A new National Research Corporation Canada Report on patient satisfaction recognizes Kemptville Hospital for overall care of inpatients and their likelihood to recommend the hospital
MAY 5, 2014 – Kemptville District Hospital (KDH) has been rated in the top 10 percent in Ontario for inpatient care, according to a report released last week by National Research Corporation Canada (NRCC).
Patients rated KDH in the top 10 percent in both categories covered by the report: patients' satisfaction with the overall quality of care they received, and their likelihood to recommend the hospital to family and friends.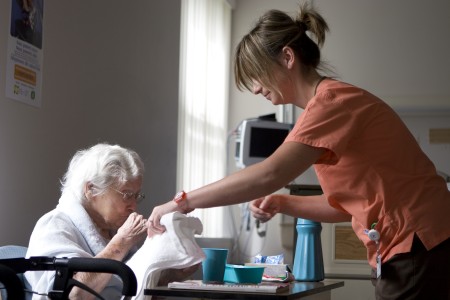 The ratings are based on surveys completed by patients during an inpatient stay in one of 113 participating Ontario hospitals between April 1, 2012 and March 31, 2013.
The new report, entitled "Patient Ratings of Overall Care and Likelihood to Recommend Ontario Hospitals", is NRCC's third annual report on patient ratings of overall care and their likelihood to recommend Ontario hospitals.
In the second annual report by NRCC, released in November, 2013, KDH ranked in the top 10 percent of Ontario hospitals for its Emergency Department.
"We are pleased that with this report our healthcare teams on both our medical and surgical inpatient units are being recognized," said KDH CEO Colin Goodfellow. "They, like everyone who works at KDH, are committed to providing the highest quality of care."
About Kemptville District Hospital
Kemptville District Hospital is Accredited with Exemplary Standing, the highest ranking bestowed by Accreditation Canada. Committed to building healthier communities, we are a model of hospital-led integrated health services within the provincial health system. Kemptville District Hospital consistently ranks among the top hospitals in Ontario for both patient and employee satisfaction. We pride ourselves on being a good partner within the system. We operate on two sites and provide primary care management services, acute care hospital services, and advanced orthopaedic care.
For further information contact:
Jenny Read, Communications Lead
T: 613-258-6133 Ext. 223
Email: jread@kdh.on.ca