We are pleased to announce the opening of the new Clinics at KDH on September 11, 2017! We have modernized more than 4,000 square feet of under-utilized space in order to double the services and programs we can offer to outpatients.
The Clinic Modernization Project will enable KDH to provide –
This is what our previous clinic spaces looked like: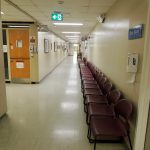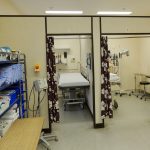 Here's what the clinic space looks like now:
Take a virtual tour of the new clinic space.
Read monthly Project Status Updates.
New Programs and Services made possible by the Clinic Modernization Project:
New Specialists' Clinics
With double the number of clinic spaces, KDH can add a variety of new specialists' clinics.  New offerings may include clinics for concussion, ophthalmology, pain management, psychiatry, sleep apnea, and urology. We also anticipate shorter wait-times, compared to booking a specialist's appointment in the city where the volume of patient visits is much higher.
Children and Youth Services
These will include clinics for children and youth to help manage mental health and addictions challenges before they reach the crisis stage, as well as support groups for parents and caregivers.
Chronic Illness Programming
Enhancing KDH's ability to support people with chronic conditions means that they will have the tools they need to manage their conditions and lead better, happier lives, with fewer visits to the ER, few hospitalizations, and the ability to remain at home as long as possible.
Prevention, Education and Wellness Programs
Healthcare is not just about healing, but also about preventing illness, and the best way to do that is through education. The Clinic Modernization Project will allow us to increase our programs designed to help people of all ages stay well.
A Room for Families
A key component of the project is the creation of a private visiting or grieving space for families. Now a standard in hospitals, the concept of a designated room for families to gather in private did not exist when KDH was built; the Clinic Modernization Project will enable KDH to offer this source of comfort.