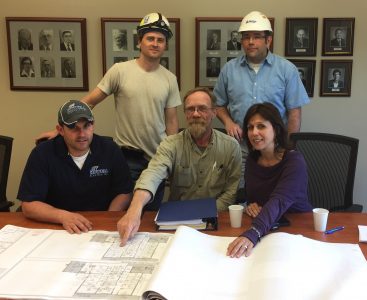 KDH is fortunate to have an extremely competent team of professionals who are committed to completing the Clinic Modernization Project to the highest standards of quality.
The Project Team consists of :
David Bryden – Bryden Martel Architects Inc.
Larry McMillan & Christopher Sylvestre  – WSP Mechanical/Electrical  Engineers
Louis Guilbeault – BTY Group
Tammy Buehlow – KDH
Harold Westendorp – KDH
The Major Trades are:
Electrical contractor:  D.R. Howell Electric
Mechanical contractor:  S&R Mechanical
Gypsum Board/Ceiling:  Marel Contractors
In our photo above:  Examining the plans at a recent site meeting are – (back row, left to right): Jeff Howard, S&R Mechanical,  Chris Sylvestre, WSP Mechanical; (front row): Dean Howell, D.R. Howell Electric, and KDH's Harold Westendorp and Tammy Buehlow.
OUR GENERAL CONTRACTOR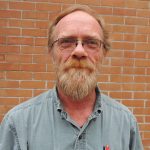 Harold Westendorp is a 4th Class Stationary Engineer. He brings more than 30 years of residential and commercial construction experience to the project, with 21 years' experience in a healthcare environment.
Harold is a dedicated KDH employee, who recently celebrated 20 years of service to the Hospital. His responsibilities relative to the Clinic Modernization project include coordination of all trades, site safety and security, and involvement in risk management and control.
OUR PROJECT ADMINISTRATOR

Tammy Buehlow is KDH's Building Services Manager. Her qualifications include Algonquin College Project Management Studies certification (with Honours), Lean Yellow and Green Belt certification (Black Belt in progress), and she is currently studying for the Certified Associate in Project Management exam. As the Administration of the Clinic Modernization Project, Tammy has been involved since its inception.