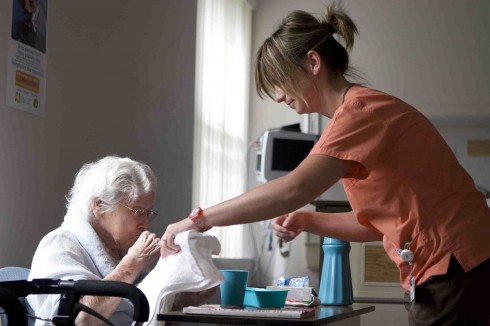 What to expect during your stay
We will do our utmost to make your stay as comfortable and healing as possible. We are dedicated to providing you with the best possible care. Your healthcare team will work with you and your family to make sure you receive the most appropriate treatment.
While you are here, please let us know about any needs you have. Be involved in your healthcare. Speak up if you have questions or concerns about your care.
Read our Patient and Family Information booklet for everything you need to know about your stay at KDH.
Read our Patient Safety brochure.
What will I need?
your Ontario health card and private health insurance information
list of any medications and/or foods that you are allergic to
all medications (including prescription drugs, over-the-counter drugs, vitamins, food supplements and herbal products) that you are currently taking – in their original bottles
comfortable clothing and non-slip footwear
toothbrush, toothpaste, unscented shampoo, body lotion, shaving supplies
hairbrush or comb
sanitary items
When will I be able to go home?
We will do everything we can to help you get well and get your life back to normal as quickly as possible. Discharge planning begins as soon as you arrive at the hospital. Members of your healthcare team will discuss and assess your needs and possible challenges you may experience after being discharged from the hospital. The doctor will try to notify you 24 hours before you are to be discharged. On the day of your discharge, please arrange for transportation home prior to 11 am. We recommend that a friend or relative accompany you home. We will provide you with any necessary prescriptions and an appointment for follow-up care, if necessary.
When can my family visit?
In the medical inpatient unit visiting hours are 11:30 am to 2:00 pm and 4:00 to 8:00 pm. In the critical care unit, visiting hours are 11:30 am to 2:00 pm, 4:00 to 6:00 pm and 7:00 to 8:00 pm.
Can I use my cell phone?
Yes, we now know that cell phones don't interfere with the functioning of medical equipment.
How can I get online?
Free WiFi is available. Here's how to get it: 1. Set your laptop/tablet to receive WiFi, 2. Scan for wireless networks, 3. Select Guest Internet, 4. Enter Password: KDH Guest.
Can I have a phone and TV in my room?
You can rent a telephone and/or a tv on a day-by-day basis. Rental forms are available at the nursing desk.
How often will I see the doctor?
You will see your physician daily and you will receive 24-hour monitoring and treatment from nurses and other healthcare professionals.
What time will my meals be served?
Healthy, nutritious meals are served at 8:00 am, noon and 5:00 pm. You will be asked your choice for lunch and dinner each morning at breakfast time. The choices offered are based on your diet order (determined by your doctor and/or our registered dietitian). There is a servery available for patients to use. If you are on a special diet please check with the nurse before eating food from the servery. Family may bring in food for you but we ask that they check with the nurse if you are on a special diet. Please feel free to ask to speak to the dietitian about your dietary needs or for more information about a special diet you may be placed on.
How do I get support to stop smoking?
Quitting smoking is the single-most important thing you can do for your health. Ask a staff member; we can help you quit, or at least help to reduce the urge to smoke while you are in hospital.
Can I upgrade my room?
This depends on your health insurance coverage. The cost of a bed in a three or four bed ward-room is covered by OHIP. If you have additional health insurance, it may cover the cost of a semi-private or private room. There are two family suites at KDH, designed for palliative care patients, pediatric patients or other patients with family attending. These suites may be used by patients requesting private accommodation, when available.