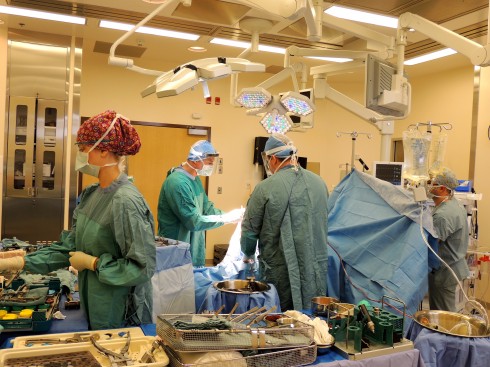 At Kemptville District Hospital we offer orthopaedic surgery, general surgery and endoscopy (e.g., colonoscopy). Some of these surgeries are done as day surgery; others require an admission to hospital.
Coming to KDH for surgery?  Prior to your surgery, you may need to meet with your anesthetist. Click here for information about our Pre-Anesthesia Clinic.
Watch our Pre-Op video to learn more about what your surgical day will be like, take a tour of the hospital, and more.
If you develop COVID, cold or flu symptoms prior to your surgery, contact your surgeon.  If you cannot reach your surgeon, please contact us at 613.258.6133 ext. 423.
Click here for general instructions on how to prepare for your surgery and what to bring to the hospital. If you are coming for day surgery, please note that in-person check-in starts at 7 am.
If you are coming to pick up a patient following surgery or a procedure:  Please wait for our staff to call you with pick-up instructions. You may wait outside or in your car. The patient will be brought to the Emergency Entrance for pick up.
Orthopaedic Surgery
At KDH we specialize in orthopaedic care, offering hip and knee replacement procedures as well as arthroscopic knee surgery, anterior cruciate ligament (ACL) repairs, shoulder surgery, foot procedures and other minor orthopaedic procedures.
Our Total Joint Replacement (TJR) Program:
KDH performs total joint replacement knee and hip surgery as a satellite site of The Ottawa Hospital through the Champlain Regional Orthopaedic Network. Visit www.champlainmskcare.ca if you have a shoulder, spinal, hip, knee, foot or ankle condition and would like more information about your condition and where to get help for it.
Scheduled for a hip or knee replacement at KDH?
Watch the video we made to celebrate the launch of our TJR Program

Endoscopic Surgery
Endoscopy means 'looking inside' and generally refers to seeing the inside lining of your digestive tract. During a colonoscopy, for example, the surgeon examines the inside of the patient's colon. At KDH we offer colonoscopy, gastroscopy, sigmoidoscopy and endoscopic hemorrhoidal ligation or banding.
General Surgery
General Surgery at KDH includes laparoscopic cholecystectomy (removal of the gallbladder through an endoscope) and hernia repair surgery of all types. We also do other minor general surgery procedures such as removal of cysts, lesions, and lipomas.
Rehabilitation: Physiotherapy and Occupational Therapy
Rehabilitation, or rehab, is key to your recovery following surgery, especially joint replacement surgery. Doing the exercises your physiotherapist recommends will ultimately mean decreased pain, improved movement and greater strength. Your occupational therapist will give you strategies to help you cope with mobility problems.
The Rehab Team at KDH sees joint replacement patients a few weeks prior to their surgery, during their short hospital stay, and for the first few weeks after they've been discharged from hospital. Patients who have additional health insurance can receive the same treatments at a community physiotherapy clinic. Joint replacement patients generally need physiotherapy twice a week for four to six weeks following their surgery.
What Our Patients Have To Say
"I recently had a total knee replacement at Kemptville District Hospital. From admitting to discharge, my experience could not have been more positive. The kindness, care and service were exceptional and way beyond words. I have never experienced such excellent personal care and I have had many surgeries before this one."  More