UPDATE January 13, 2021: Medical Appointments at KDH Continuing
Medical appointments at KDH will continue during the period of the Ontario government's Stay-At-Home-Order, effective Thursday, January 14, 2021 at 12:01 a.m. If there should be a cancellation for any reason, the patient would be notified.
This applies to outpatient clinic appointments, diagnostic imaging tests (x-ray, ultrasound, etc.) and day surgeries.
Due to ongoing COVID-19 precautions, when you come for your appointment you will need to come alone, and you will need to sanitize your hands and wear a mask.
COVID-19 Current Visitor Guidelines
On December 21, 2020, the Ontario government announced a province-wide shutdown beginning on December 26 to slow the spread of COVID-19; these new restrictions will be in place for 28 days. Click here for the specifics of the current Visitor Guidelines.
North Grenville COVID-19 Assessment Centre
KDH is a proud partner in the North Grenville COVID-19 Assessment Centre, which opened in Bell Hall on the Kemptville Campus on September 24, 2020. Learn more. 
NEW GUIDELINES FOR TRAVELLERS REQUIRING COVID-19 TESTING
Following new testing guidance from the Ministry of Health, the North Grenville COVID-19 Assessment Centre in Kemptville, ON no longer accommodates testing for the purpose of pre-travel clearance. This guidance applies to all assessment centres in the province and came into effect Friday, December 11, 2020. Travellers should consult their travel carrier's guidelines to ensure they have the most up-to-date information about requirements. Travellers should also refer to the federal government's travel website for up-to-date expectations and requirements related to their destination. If a COVID-19 test is required, it is important to ensure ample time for testing and to receive results. COVID-19 testing services are available by private laboratory providers for a fee, and travellers in need of a test are encouraged to search for convenient local options.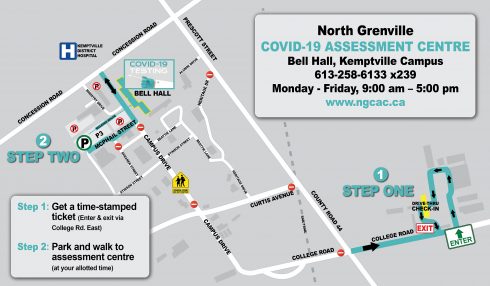 Ongoing Restrictions/Cancellations
Kemptville Distrist Hospital is taking extra precautions to ensure the safety of our patients, visitors, staff, physicians, and volunteers during the COVID-19 pandemic. Below is a list of current restrictions/cancellations at KDH.
Given the fluid nature of the situation, this page is updated regularly. We are committed to being transparent and accountable in all our communications. We thank the entire KDH community, both within and outside our walls, for your understanding and cooperation during this challenging time.
There is one entrance open to the public – the ER entrance – where you will be screened on arrival.
All volunteer services have been suspended; this includes operation of the hospital's coffee shop.
All large group events are cancelled until further notice.
All after hours meetings at KDH are cancelled until further notice.
What to do if you think you might have COVID-19:
The most common symptoms of COVID-19 include fever, cough, difficulty breathing, muscle aches, fatigue, headache, sort throat and runny nose; these may occur within 14 days of exposure to another case.
If you are concerned about possible symptoms of COVID-19, complete the Ministry of Health's online self-assessment tool and follow the guidance provided. If further clinical assessment is advised, call your healthcare provider or the Health Unit (1-800-660-5853 extension 2499). Before visiting any health care provider, call ahead and advise them of your symptoms and travel history.
If you are having severe difficulty breathing or experiencing other severe symptoms, call 911 immediately. 
Assessment Centres: You may be directed by the Health Unit to an Assessment Centre. Within Leeds, Grenville and Lanark, Assessment Centres have been set up in Brockville, Smiths Falls and Almonte.
Brockville Assessment Centre: Appointments or referrals are no longer required. This centre accepts walk-ins for screening at 100 Magedoma Boulevard, between 10:00am and 5:30pm, 7 days a week.
Smiths Falls/Almonte Assessment Centres: These centres require a referral and appointment. Call your healthcare provider or the Health Unit (1-800-660-5853 extension 2222) for a referral.
Please do not present directly to the emergency department as most people with COVID-19 can self-care at home and do not need medical attention.  This will help protect resources and other more vulnerable patients who do need emergency care.
This information is not intended to provide medical advice. If you have medical questions, consult a health practitioner or your local public health unit.
For more information:
Consult the Leeds, Grenville and Lanark District Health Unit for up-to-date recommendations on screening, self-isolation, travel advice and public gatherings. Everyone is reminded as well to continue to practice frequent hand hygiene and careful respiratory etiquette.
Mental Health Support during the pandemic:
It's normal to feel worried and overwhelmed during these uncertain times. Help is available for people experiencing heightened stress and anxiety during the COVID-19 pandemic.
For children and youth:
Call WAY – Wellness Access for Youth – at 1-866-741-1WAY (1929) to speak to a counsellor about current stress and anxiety or any mental health issue, and to get connected to any of the WAY partners whose services you need. WAY partners include Children's Mental Health of Leeds and Grenville,  Connect Youth (for help with housing, employment, or support while waiting for a referral), and PLEO – Parents' Lifelines of Eastern Ontario.
For more information about WAY, visit https://www.kdh.on.ca/way
For adults:
The office of Lanark, Leeds and Grenville Addictions and Mental Health (LLGAMH) in the KDH Health Centre on our campus is currently closed due to the pandemic; however, LLGAMH's counsellors and case workers are working remotely, and are ready to take your call, whether you are a current client or you find yourself in need of service now. Please call 613-342-2262.
For more information about LLAGM, visit https://llgamh.ca
Updated June 2, 2020.