Kemptville District Hospital (KDH) is delighted to announce that its Communications team is mounting a 'mini' historical display celebrating National Nursing Week, May 9-15, 2022, in downtown Kemptville!
The display will be in the front window of the brand new 'History Hub' at 148B Prescott Street (next to Bubba and Bugs Coffee Bar). The History Hub is an initiative of the North Grenville Historical Society; KDH is proud of this new collaboration.
The display will feature a small assortment of artifacts from the KDH collection, the majority of which has been lovingly preserved by the volunteers of the KDH Auxiliary over the years. This mini display is also a 'teaser' for the permanent historical display (put on pause by Covid) that will be installed at KDH in the corridor between the Emergency Department and Diagnostic Imaging by the end of the year, time permitting.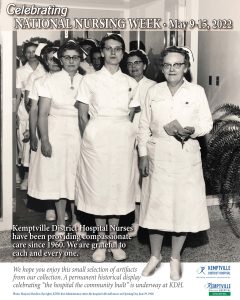 The public is invited to stop by and see the display during Nursing Week. The History Hub is open Wednesday to Saturday 10am to 4pm or the display can be viewed through the front window any time. The KDH display will remain in place until the end of May. The poster at left will be featured in the display.
ABOUT KEMPTVILLE DISTRICT HOSPITAL
Kemptville District Hospital (KDH) is a 40-bed acute care hospital located in the rapidly growing Eastern Ontario municipality of North Grenville, 40 minutes south of Ottawa. We provide 24-hour emergency care, inpatient care, advanced orthopaedic surgery (as a satellite of The Ottawa Hospital), Convalescent Care, Interim Long-Term Care, Day Surgery, Diagnostic Imaging, an ever-growing list of outpatient clinics, and education and wellness programming including Diabetes Education and Support. Committed to advancing our mission of Building Healthier Communities, we are an integrated health services organization with deep partnerships in our community and region. With our partners in the Ottawa West Four Rivers Ontario Health Team, we are collaborating on a new model of health care delivery that puts patients, families and caregivers at the centre of the health care system.
For further information contact:
Jenny Read, Communications Officer
Kemptville District Hospital