Welcome to the current web location of the Mental Health and Addictions Health Hub for Children and Youth in North Grenville, now known as WAY – Wellness Access for Youth
About
The Mental Health and Addictions Health Hub for Children and Youth in North Grenville, now known as WAY, is a collaborative made up of service providers who provide, refer, and support mental health and addictions services for children and youth aged 12 to 25 years of age in North Grenville. The overall goal of WAY is to increase access to safe, efficient, effective, timely and equitable integrated mental health and addictions services for children, youth and families living in North Grenville.
Naming Contest
UPDATE: Our naming contest is over! The winner of the tablet was Mathew Disci, a student at St. Michael Catholic High School in Kemptville. The CEO of Kemptville District Hospital, Frank Vassallo, presented a beautiful new Ipad to Mathew at the hospital on July 18, 2019. Photo below!
If you are between 12 and 25 years of age, we invite you to enter our Hub Naming Contest. This is your chance to choose a new name for the Mental Health and Addictions Health Hub for Children and Youth in North Grenville. All entries will be eligible for a draw to win a tablet!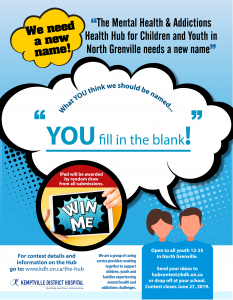 Just pick a name for the Hub and tell us why you chose it – in a short essay (250 words or less), in a video clip, etc. – feel free to be creative! Submit your entry by email to hubcontest@kdh.on.ca, or by dropping it off at a designated drop-off location – area schools, Children's Mental Health of Leeds and Grenville (Kemptville Service Site), Kemptville District Hospital (main lobby), or the Leeds, Grenville and Lanark District Health Unit (Kemptville Service Site).
The contest is open until June 27, 2019. When the contest closes, one tablet winner will be randomly selected from the list of entries received. The Hub name will be chosen by the partners in the Hub Collaborative Committee on a consensus basis. Good luck! 
New Walk-In Clinic in Kemptville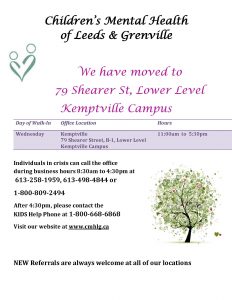 There is a new walk-in clinic in Kemptville for children and youth and their families looking to work toward a solution to a problem or concern. The clinic is held every Wednesday between 11 am and 7 pm at the Kemptville office of Children's Mental Health of Leeds and Grenville (CMHLG), located at 79 Shearer Street (lower level) on the Kemptville Campus.
The clinic offers each child and youth an appointment with a counselor to focus on behavioral, emotional and/or mental health concerns. If additional services, such as intensive service, group services or psychiatry consultations are required, CMHLG will facilitate that. For more information please call CMHLG at 613.498.4844 or 1.800.809.2494.
Not Sure Where To Go? Connect Youth – A Safe Place for Youth In Need
Connect Youth provides service to all young people who seek our help and seeks to create awareness within the community, so that both the youth and those that care about them know that there is a place they can go, and people who can help them cope with their problem.
Connect Youth fills in a gap in community services by helping and supporting youth with employment, outreach, life skills and many other services.
Kris Van de Ven (pictured at left) works for Connect Youth and is also the Hub Navigator. In between counselling sessions at the walk-in clinic, while waiting for a referral, or any time they need to discuss a problem, youth can call or text Kris at 613.246.5792.
Physicians, teachers and others with concerns for a youth can contact Connect Youth at  613.918.0173 or info@connectyouth.ca.