KEMPTVILLE, ONTARIO, MONDAY, DECEMBER 6, 2021 – Kemptville District Hospital (KDH) is pleased to announce the appointment of Jennifer Ellis, RN, PhD, as its new Vice President of Nursing/Clinical Services and Chief Nursing Executive (CNE), effective January 4, 2022.
Ellis brings to KDH 16 years of progressive leadership experience in the healthcare sector. Her areas of expertise include patient safety, patient experience, professional practice, risk management, quality improvement, nurse staffing, and service operations.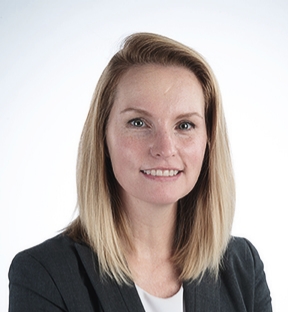 Ellis comes to KDH from the Children's Hospital of Eastern Ontario (CHEO), where she has served as the Director of Quality and Safety since 2014. Significant accomplishments during her tenure at CHEO include implementation of a robust patient safety strategy and programming, as well as operational service and infrastructure changes. Additionally, Ellis' team oversaw a very successful Accreditation, in which CHEO achieved Exemplary standing and an overall score of 99.7 percent. Ellis and her team were instrumental in putting "Safety First" throughout the pandemic, instituting highly reliable COVID safety practices, which contributed to CHEO's outbreak free status.
Ellis earned her PhD in Nursing from McMaster University in 2009, successfully defending a thesis focused on nursing health human resources. She has authored papers that have appeared in publications such as Canadian Nurse and the Journal of Nursing Care Quality and is an advocate of evidence informed, professional practice. Ellis has been a guest lecturer in the Telfer School of Management's Master of Health Administration program and is currently teaching its Quality Management course.
Ellis has a strong commitment to regional collaboration and community contributions. She currently serves on a number of non-profit boards, including as Vice Chair, Rideauwood Addictions and Family Services, and Board Member, Service Coordination Support. Ellis is active in regional committees, such as the Health Care Quality Network, and professional organizations such as the Registered Nurses' Association of Ontario.
"After an exhaustive search to fill this pivotal role, we are thrilled to welcome Jennifer to KDH," said the hospital's CEO, Frank J. Vassallo.  "She is a results driven and inspiring leader who brings a wealth of experience and expertise along with a commitment to foster a culture of accountability, responsibility and possibility," he added.
"I am pleased to join KDH and work alongside the teams in building healthier communities," Ellis responded. "I am a believer in high quality care with a fantastic patient experience, resulting from highly engaged staff and communities.  I am excited to support the wonderful work of the KDH staff and medical staff and look forward to what we accomplish in the future."
Ellis succeeds Cathy Burke, RN, who served in the role from 2015 to 2021, after arriving at KDH in 2013. Burke remains at KDH in the new role of Clinical Lead for the implementation of the Epic digital health information system. Vassallo expressed his gratitude to Burke for her service,  commending her hard work and dedication particularly in responding to the challenges presented by COVID-19 over the past 20 months and leading KDH to its own successful Accreditation in September, 2021.
About Kemptville District Hospital
Kemptville District Hospital is Accredited with Exemplary Standing, the highest ranking bestowed by Accreditation Canada. Committed to building healthier communities, we are a model of hospital-led integrated health services within the provincial health system. Kemptville District Hospital consistently ranks among the top hospitals in Ontario for both patient and employee satisfaction. We pride ourselves on being a good partner within the system. Kemptville District Hospital provides acute care hospital services, advanced orthopedic care and an array of other programs and services.
For further information contact:
Jenny Read, Communications Officer
T: 613-258-6133 extension 223
Email: jread@kdh.on.ca
www.kdh.on.ca