Accreditation Canada has recognized Kemptville District Hospital (KDH)'s clinical and operational performance with its highest rating, Exemplary Standing, for the second time running.
KDH achieved a rare perfect score in its recent onsite accreditation survey, conducted November 28 through December 1, 2016, meeting 100 percent of the 1,666 criteria that Accreditation Canada used to measure the quality of care and services that KDH provides.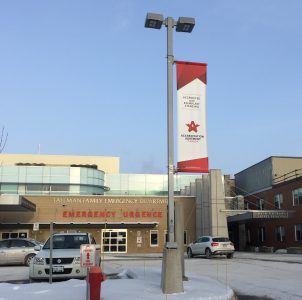 Accreditation Canada works with healthcare organizations to help them improve quality, reduce risk, and strengthen accountability so they can offer the best possible care and services. Accreditation with the independent, not-for-profit organization denotes a facility that is continually working to meet national standards of quality and provide safe care.
"Our dedicated staff, physicians, and Board of Directors have been very busy for the last 18 months getting ready for accreditation," said Lana LeClair, KDH's VP Corporate Affairs, who led the accreditation preparation process.
"Our starting point was evaluating our quality of care and service against best practices in healthcare," she explained. "We gained a clear picture of our strengths, and areas where we could improve. This resulted in the development of a number of new processes and new and updated policies to improve the quality, efficiency, and effectiveness of our hospital. "
"Having completed our journey to accreditation," she concluded, "we are a better organization now!"
Frank J. Vassallo, KDH's Chief Executive Officer, expressed his gratitude toward each member of the KDH team for their hard work leading up to the accreditation survey: "This achievement was made possible by our hospital staff, physicians, patient and family advisors, KDH Auxiliary volunteers, our partners, and the Board of Directors," he stated.
"I can't tell you how proud I am," he added. "It really took the entire organization working together to make this happen. Our Exemplary Standing demonstrates credibility and a commitment to quality and accountability. Our achievement improves the organization's reputation among our patients and families, current and future health system partners, and the community as a whole."
KDH Board Chair Karen Cooper noted that Accreditation Canada adapted approximately 350 criteria in 2016 to measure the delivery of Patient and Family Centred Care, a methodology that sees healthcare providers partnering with patients, both in the care they receive and at the organization's decision-making tables.
"In light of these new criteria, KDH's achievement of Accreditation with Exemplary Standing is a reflection of our commitment to Patient and Family Centred Care," she said. "We believe this to be a vital component of the quality of care we provide, and will continue to integrate the patient voice in everything that we do."
Cooper took the opportunity to congratulate KDH staff, physicians and volunteers. "I'd like to commend everybody who works, volunteers or provides services here on your commitment to providing the best care possible to our patients and families," she said.
Lana LeClair stressed that KDH's focus on improving quality, efficiency, and effectiveness does not end with the award of Exemplary Standing.  "Going forward," she explained, "our focus on the Accreditation Canada standards will stimulate sustainable quality improvement efforts and will continuously raise the bar relative to quality improvement initiatives, policies, and processes, as well as promoting a quality, safe, and patient-centred culture."
KDH also achieved Exemplary Standing at its previous accreditation, which took place in 2012.
About Kemptville District Hospital
Kemptville District Hospital is Accredited with Exemplary Standing, the highest ranking bestowed by Accreditation Canada. Committed to building healthier communities, we are a model of hospital-led integrated health services within the provincial health system. Kemptville District Hospital consistently ranks among the top hospitals in Ontario for both patient and employee satisfaction. We pride ourselves on being a good partner within the system. Kemptville District Hospital provides primary care management services, acute care hospital services, and advanced orthopaedic care.
For further information contact:
Jenny Read, Communications Officer
T: 613-258-6133 extension 223
Email: jread@kdh.on.ca