Kemptville District Hospital (KDH)'s volunteer organization, the KDH Auxiliary, has donated an impressive $65,000 to enhance patient care at the Hospital just days before National Volunteer Week is celebrated April 15 to 21, 2018.
"This is the fourth year in a row that the Auxiliary's annual donation has totaled $65,000, and we couldn't be more grateful," said Frank J. Vassallo, KDH's Chief Executive Officer.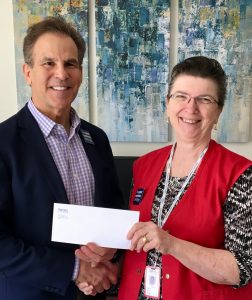 This donation brings the KDH Auxiliary's total contribution since its founding in 1959 to $1.36 Million. The monies are raised through the Auxiliary's bustling Gift Shop and Coffee Bar, its annual Hey Day fundraiser the second weekend of June, quilt raffles, donations to the Auxiliary Tribute Fund, and other efforts. The funds are used to enhance patient care; past Auxiliary donations have funded state-of-the-art equipment and supported hospital services in various departments, including Emergency, the Surgical Units, and the Mammography Suite.
"I can't imagine KDH without the contributions of our volunteers," Vassallo stated, "and not just because of their tremendous financial support, but also because of the difference our volunteers make in the day to day experiences of our patients and their families."
After presenting the cheque, the current President of the KDH Auxiliary, Connie Parsons, stated that this year's donation would again be used to purchase essential medical equipment for the Hospital, with details to be provided at the annual Volunteer Appreciation Tea to be held April 19, 2018 from 1:00 to 3:00 pm at Southgate Community Church, just outside of Kemptville.
Parsons announced that, as usual, all KDH volunteers are invited to attend, and noted that the Tea would provide an occasion for volunteers to dress up if they chose. "The Tea gives us an excuse to bring out our hats and gloves," she said.
"I am so proud of each and every one of our volunteers," Parsons continued. "I've made some calculations, and I'm pleased to report that our dedicated group of 90 active hospital volunteers plus our Hey Day event volunteers together gave more than 12,000 hours of their time to KDH in 2017!"
Despite these impressive numbers, "We can always use more volunteers," she added.
The KDH Auxiliary provides volunteers for every area of the hospital. Dressed in their distinctive red vests, they can be seen greeting people in the main lobby and the ER, helping with meals and activities in the interim long-term care and convalescent care unit, assisting with preoperative appointments for surgical care patients, lending a hand in the dietary department, photocopying packages in the administrative area, and making pastoral care visits.
The Hospital is hoping for a great turnout of volunteers at the Volunteer Appreciation Tea again this year, as it provides an opportunity for staff to express their gratitude to the volunteers. "We hold this special event during Volunteer Week every year to formally recognize the compassion and dedication of our volunteers," explained Vassallo. "It's one of the highlights of the KDH year."
Volunteers planning to attend the tea, as well as prospective new volunteers, are asked to contact the KDH Volunteer Coordinator at volunteer@kdh.on.ca.
About Kemptville District Hospital
Kemptville District Hospital is Accredited with Exemplary Standing, the highest ranking bestowed by Accreditation Canada. Committed to building healthier communities, we are a model of hospital-led integrated health services within the provincial health system. Kemptville District Hospital consistently ranks among the top hospitals in Ontario for both patient and employee satisfaction. We pride ourselves on being a good partner within the system. Kemptville District Hospital provides primary care management services, acute care hospital services, and advanced orthopedic care.
For further information contact:
Jenny Read, Communications Officer
T: 613-258-6133 extension 223
Email: jread@kdh.on.ca