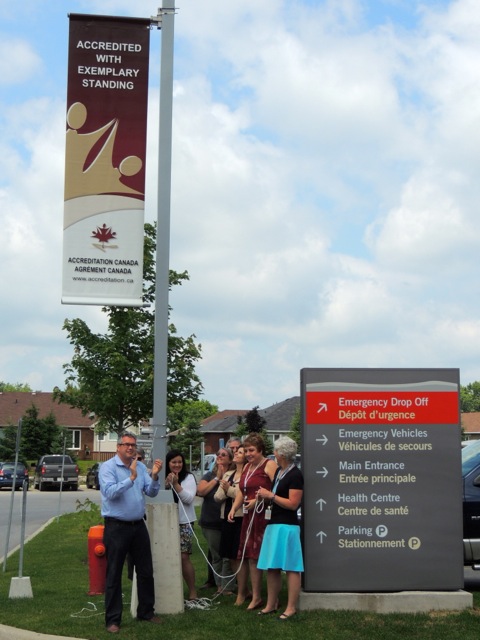 Kemptville District Hospital has been awarded Accreditation Canada's highest ranking, "Accreditation with Exemplary Standing", a measure of the quality of care and services it provides.
MAY 6, 2013 – Already rated the best small hospital in Ontario by both patients and staff, Kemptville District Hospital (KDH) now joins an elite group of Canadian hospitals awarded Exemplary Standing, the highest ranking possible under the rating system.
The accreditation process is a third-party assessment of the quality of care and services provided, measured against best practices.
KDH achieved Exemplary Standing after Accreditation Canada measured its performance against some 1,369 criteria across 11 sets of standards.
Accreditation is a tool that Canada's hospitals use to measure their performance, explains Lana LeClair, Manager of Corporate Affairs & Organizational Development at KDH: "Evaluating our quality of care and service against best practices allows us to measure our performance, both clinical and operational, giving us a clear picture of our strengths and areas where there may be an opportunity for improvement."
Jean-Jacques Rousseau, Chair of the hospital's Board of Directors, extended congratulations to hospital staff, physicians, volunteers and partners. "The Board is incredibly proud of the great people who work at KDH," he said, "and I personally want to let you know the deep confidence the entire Board places in you and the tremendous effort everyone puts into getting the job done day by day."
Colin Goodfellow, KDH's Chief Executive Officer, added his commendation of the KDH team, whose efforts included developing new processes, writing and updating policy, gathering information, and sharing their knowledge about KDH. "This accomplishment could not have happened without the deep commitment of each member of the organization," he said. "It reconfirms everyone's dedication to our work of building healthier communities."
The Accreditation Canada team was onsite at KDH in November 2012 and provided its final decision and report April 22, 2013.
About Kemptville District Hospital
Kemptville District Hospital is a fully accredited healthcare facility committed to building healthier communities. We are distinct within the provincial health system as a model of hospital-led integrated health services. We operate on two sites and provide primary care management services, acute care hospital services, advanced orthopaedic care and pride ourselves on being a good partner within the system. Kemptville Hospital consistently ranks among the top hospitals in Ontario for both patient and employee satisfaction.
For further information contact:
Jenny Read, Communications Lead
Tel: 613-258-6133 ext. 223
Email: jread@kdh.on.ca